CHANGE IN VENUE:
Intro to 'City as a Forest' will now be held at ABC Carpet and Home (not at the Interface showroom).
Thursday, September 27th, 2018 from 3-5 pm
RSVP
DESCRIPTION
As a partner event of the Agritecture Xchange series, "Intro to City as a Forest" will provide attendees with a basic understanding of biomimicry, ecological performance standards, and how we can apply ecosystem metrics to design more sustainable, resilient cities.
"City as a Forest" aims to reconstruct the relationship between the ecosystem and the city in a mutually beneficial manner that supports all life. This is a regenerative approach to building design and community development. The goals of this effort are to connect people to natural systems, align local ecosystems with larger regional systems, and integrate comprehensive ecosystem impacts into planning and decision-making. Using this holistic approach, we can solve challenging urban problems while strengthening the connection between the built environment and nature.
Enjoy local fare and drinks while networking with other like-minded students and professionals. Questions? Contact adiel.gavish@biomimicry.org.
To be alerted to future events, sign up for our mailing list here.
---
About Chris Garvin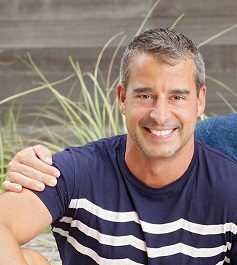 Chris Garvin is an accomplished architect and active voice in the sustainable design community. Since moving to New York in 1998, he focused on sustainable design with both Croxton Collaborative and Cook+Fox Architects. Chris joined Bill Browning and Bob Fox in 2006 to form Terrapin Bright Green, a strategic sustainability consulting firm dedicated to the rapid transformation of our built environment to create a healthy and sustainable world. During that time, Chris developed and executed a five-year biomimicry innovation program with the State of NY to support innovation in SMEs.
In 2011 he became a founding board member of the BiomimicryNYC regional network. Furthermore, he has worked with Google and Interface to integrate bio-inspired ecological metrics into the design and operations of their facilities. Chris has served as the managing partner and project lead for many of Terrapin's engagements until departing in 2017. Currently, he is focusing his efforts on ecologically-driven solutions to reverse climate change and improve the health and resiliency in communities.
---
Graciously hosted by
ABC Home is a NYC design destination—a portal into collective creativity, integrating healing, education, theater, art and other forms of interconnectivity. With beauty + design as tools, ABC guides a conscious participant to creatively commit to nurturing the planet and its communities while actualizing home as a sacred space. ABC Carpet & Home holds a commitment to indigenous artistry, and its protection, with global cooperatives and global partnerships. To find out more about their transformational events series, please click here.
Organized by
In partnership with
Since 2011, Agritecture has been researching and evaluating thousands of approaches to urban agriculture. What began as a humble blog, has evolved into a global consulting business offering clients technology-agnostic guidance. As part of their ongoing commitment to accelerate the urban agriculture industry, they continue to share knowledge through their blog, wide array of events, and their do-it-yourself +Farm.
AgTech X is a community platform for learning, collaboration, and entrepreneurship within Urban Agriculture & Sustainable Food System topics. They currently run New York City's only co-working lab that is focused solely on sustainable food & agriculture issues.
---
What is biomimicry?
Biomimicry is an approach to innovation that seeks sustainable (and net positive) solutions to human challenges by emulating nature's time-tested patterns and strategies. The goal is to create products, processes, and policies that are well-adapted to life on earth over the long haul, and actually give back to the ecosystems of which we are an integral part. As biomimics we ask, what can we learn from nature — not, what can we take?
The core idea is that organisms and ecosystems have already solved many of the problems we are grappling with. Animals, plants, and microbes are the original engineers, innovators, aviators, and architects. After billions of years of research and development, failures are fossils, and what surrounds us is the secret to survival.